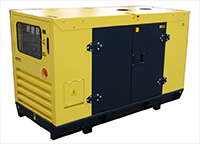 In the event of a power outage or an emergency situation, [sc:city] residents like you can rely on the backup power of an emergency generator to help you weather the storm. Nothing can replace the security of continued power during a time of uncertainty.
Generator Installation and Maintenance
We've been installing generators in [sc:city] and the surrounding areas for homeowners and businesses alike for years. When it's time to install a generator, you can turn to [sc:company].
Installing a generator is more complicated than simply setting it outside your home and plugging it in. A perfectly installed generator will turn on within moments of a power outage and provide you with seamless electrical service. Continued electric service makes it easier to look after your family and address the situation at hand whatever it might be, rather than worry about the power.
Steps we take to install a generator:
Assessment – We'll do a thorough assessment to evaluate your present power demands and find the best generator for you. Choosing a generator that is too large might be a waste of money and one that is too small will quickly run through fuel without sufficiently meeting your needs.
Installation – A generator in the wrong location can be a huge eyesore or it could pump hazardous fumes into your home. We'll find a place for it that's out of the way so you won't even remember it's there – until you need it. We install concrete pads for the generator to sit upon and we'll get it properly connected to your electrical panel through a transfer switch.
Transfer Switch – A transfer switch is the easiest and best solution for changing your power supply to a generator. Choose from a manual or automatic transfer switch to perfectly suit your situation.
Remember, an emergency is a less than ideal time to discover that your generator isn't working properly. Annual maintenance will help your generator function at its optimal level when the time arises for you to count on it.
You'll never regret having a functional generator installed at your [sc:city] area home or business in the event of an emergency. Let [sc:company] help you out with the perfect generator that will fit your every need.